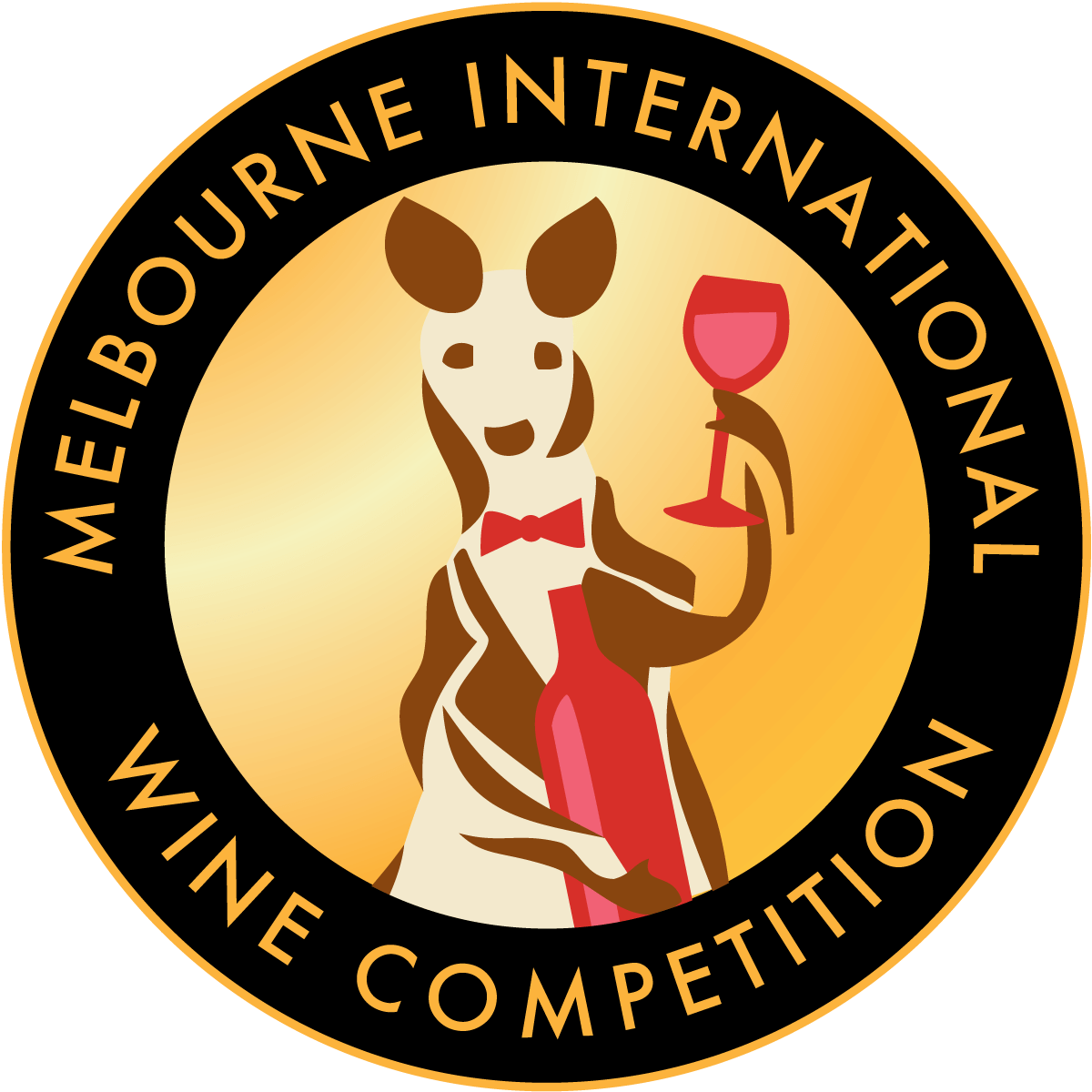 The Doctors' wins Gold in Melbourne
At the 2019 Melbourne International Wine Competition it was revealed that Forrest Wines' lower alcohol wine brand The Doctors' won Gold with their 2018 Marlborough Rose and Pinot Noir, and Silver for their 2018 Marlborough Sauvignon Blanc. Congratulations to the Forrest team. Who says you have to sacrifice quality when choosing a New Zealand Lighter wine!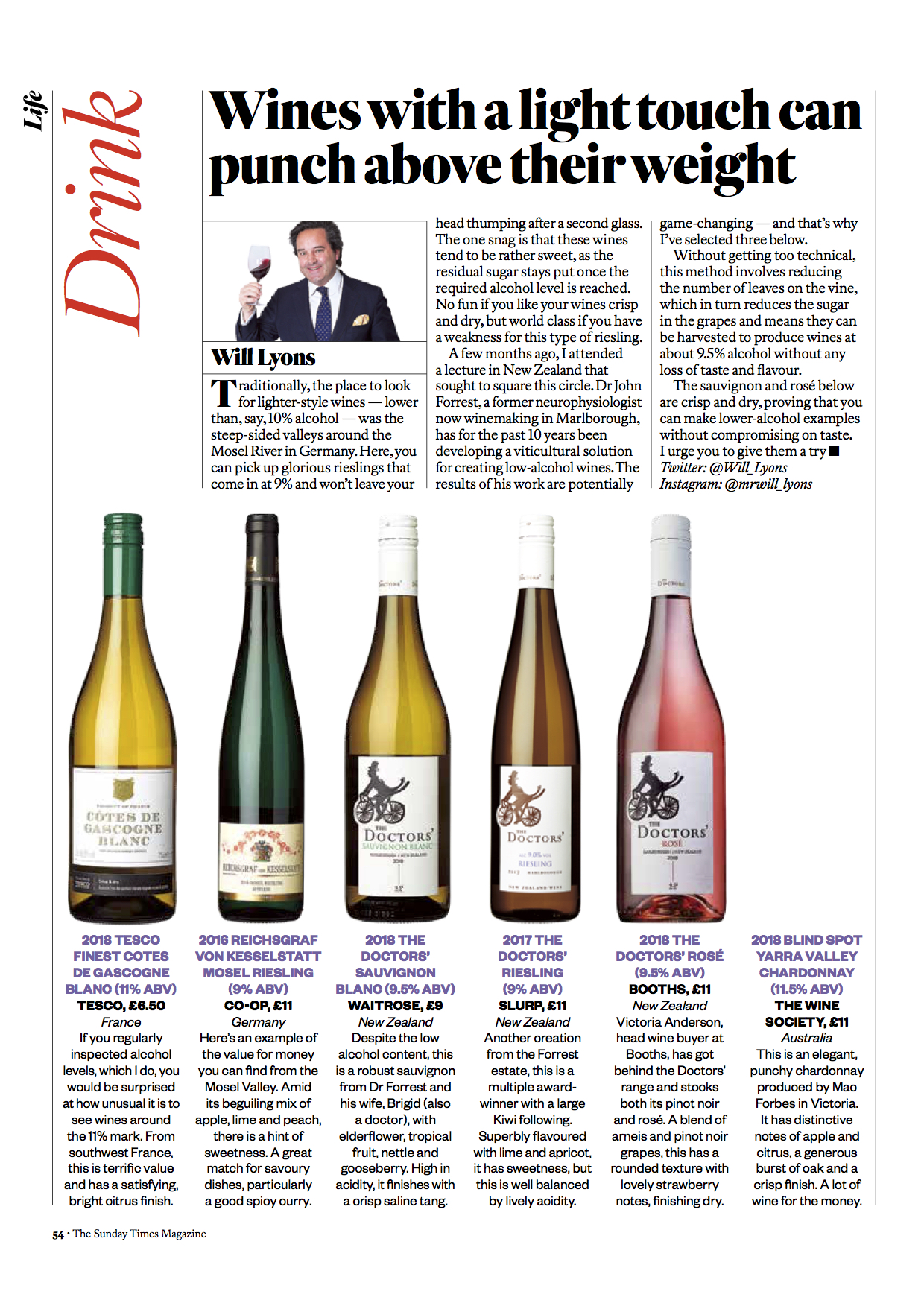 Sunday Times Magazine. Will Lyons, Wine review: the best lower-alcohol bottles
The Doctors' featured in the UK Sunday Times Magazine, June 16, 2019: "The sauvignon and rose are crisp and dry, proving that you can make lower-alcohol examples without compromising on taste. I urge you to give them a try"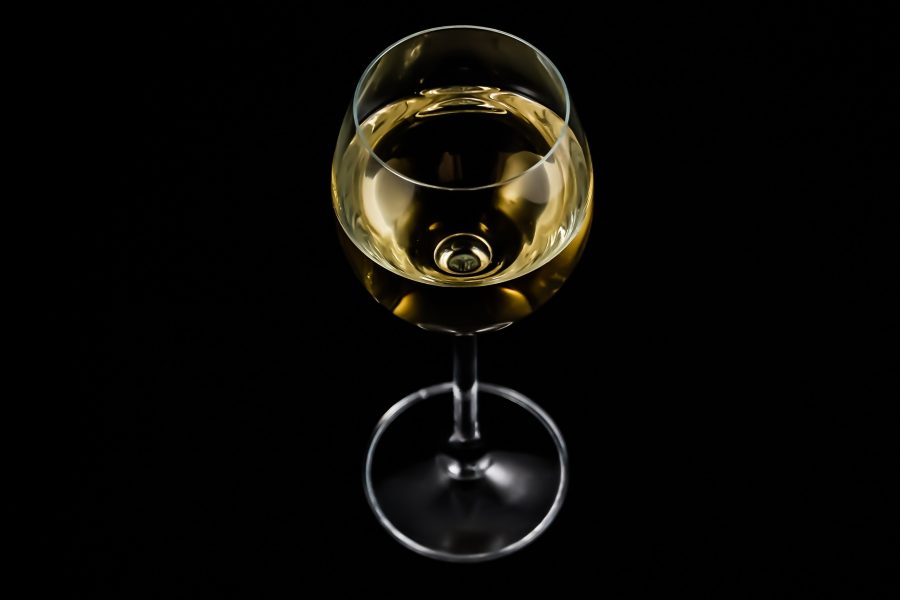 Low alcohol wines have improved dramatically in the past five years.
A few months ago, I wrote a post about the growth in sales of so-called lighter wines (wines with less than 10% alcohol by volume) in this country. I concluded the piece with the statement,
"Wine producers may still be a little shy about submitting their low alcohol wines for evaluation. According to my database, I have reviewed 276 New Zealand sauvignon blanc labels from the 2017 and 2018 vintages. Only three of them had an alcohol level below 10%."

Congratulations to the teams at Forrest Wines and Spy Valley for collecting awards at the 2019 International Wine Challenge.
Forrest Wines The Doctor's Sauvignon Blanc 2018 picked up a Bronze and Spy Valley's Easy Tiger Sauvignon Blanc 2018 a Highly Commended.
The International Wine Challenge (IWC) is now in its 36th year and is accepted as the world's finest and most meticulously judged wine competition which assesses every wine blind and judges each for its faithfulness to style, region and vintage.
Throughout the rigorous judging processes, each medal-winning wine is tasted on three separate occasions by at least 12 different judges and awards include medals (Trophy, Gold, Silver, Bronze) and Commended and Great Value awards. The IWC 2019 Awards Dinner will be held on 9 July 2019 at the Grosvenor House Hotel, Park Lane, London.
For more information on the awarded NZ Lighter wines refer Our range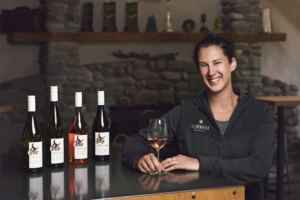 Coming from a family legacy wine business, Beth Forrest of Forrest Wines is one of the many women making inroads in the New Zealand wine industry. This International Women's Day 2019, Beth shares her experiences – how working with her family has shaped her, and why she's all fired up about NZ Lighter Wine.
https://www.nzlighter.wine/beth-forrest-on-international-womens-day/
Scottish Field – Scotland's Quality Lifestyle Magazine.
Drinks writer Peter Ranscombe selects five lower-alcohol wines. Even if the belt is pinching that wee bit tighter and the scales are groaning that wee bit more, it doesn't mean that opting for lower-alcohol wines means compromising on taste.
www.scottishfield.co.uk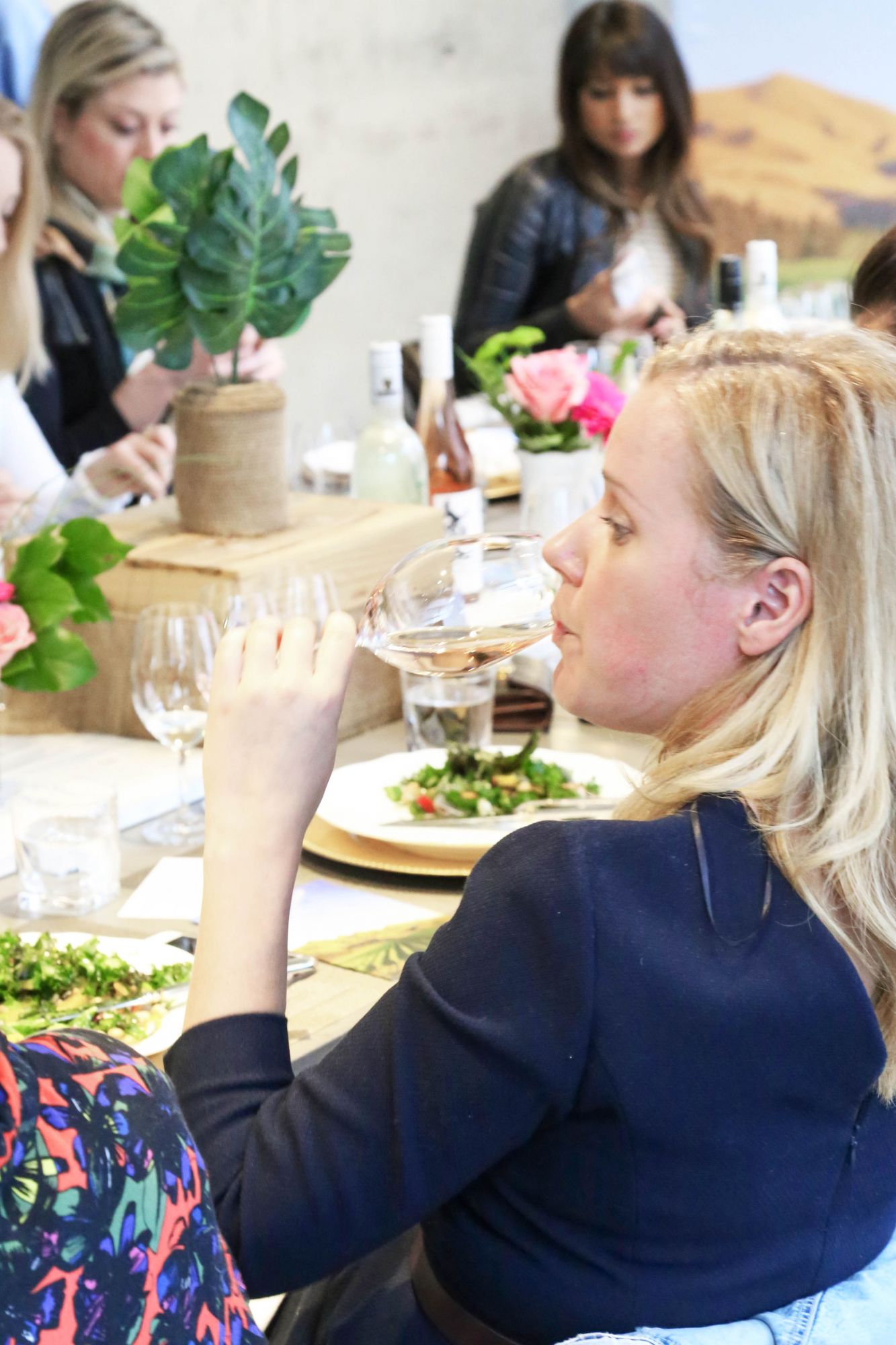 How to Sip Lighter This Summer
Canadian Wine expert Angela Aiello tells us how to have our mimosa and drink it too this summer. "In New Zealand grapes are grown in a gorgeously cool, maritime climate and slow-ripened to produce full-flavoured wine with up to 30% less alcohol compared to an equivalent full strength wine. This means you can still enjoy a glass without giving up what New Zealand wine is famous for – premium quality, varietally expressive, and delicious wines. You can even say that 'Lighter Wines' from New Zealand are perfectly matched with those aiming for balance when it comes to incorporating wellness in their life"
Just what the Doctor ordered – Golds for The Doctors' Sauvignon Blanc and Rosé
Congrats to the team at @TheDoctorsWines who have just brought home Gold for The Doctors' 2018 Sauvignon Blanc and Rosé at the UK Women's Wine and Spirit Awards. The wines were judged in open class up against full strength wines from around the world so going lighter doesn't have to mean compromising on flavour and quality.
The Women's Wine & Spirits Awards, is judged by the most important female buyers of wines and spirits. Their roles include Purchasing decision makers at major wine Importers, Distributors and Wholesalers; Restaurant and bar Buyers, Purchasing decision makers at major and medium sized Retailers.
Over 350 international guests visited Marlborough to find the naturally lower alcohol premium NZ lighter wines with full flavour and quality.
fresh.co.nz
New Zealand has set out to be a pioneer in the lower alcohol wine category, with consumers showing a growing appetite for such products. The challenge has always been to create wines that maintain the same quality as their traditional counterparts, but Stoneleigh believes its new launches have succeeded: Quite often, experienced wine tasters don't know it's a lighter wine until we tell them.